Car Hire in
Girona Airport
The world of mobility is constantly changing.
Drivalia has the solution for you.
Thanks to our network of Drivalia Mobility Stores in Spain, with Drivalia you will always find your perfect vehicle with the best conditions that adapt to your needs. We offer short term rentals, mobility subscriptions and flexible mid-term packages. Discover the new concept in 360º mobility. Welcome to the world of Drivalia Mobility Stores!
CIM La Selva, Carretera Nacional 156, Km.1.6 – Vilobí D'Onyar 17185 – Girona
OFFICE HOURS
Monday to Sunday from 09:00 a.m. to 9:00 p.m
Complementary extended pick-up / drop-off hours. Please ask for conditions.
09:00 p.m. – 09:59 p.m.
How to find Drivalia Mobility Store at Girona airport
At your arrival at Girona airport, please exit the airport terminal, walk across the crosswalk, turn to your left and continue along the pavement bordering the main car park building towards the main roundabout placed at the airport entrance. You will see our premises just a few meters on the other side of the roundabout. In total less than 350 meters.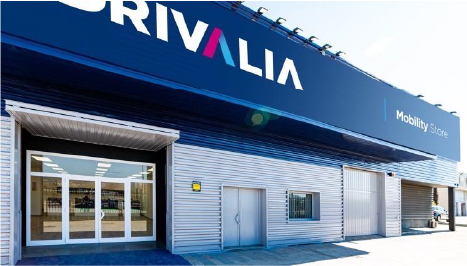 How to arrive at Drivalia Monility Store Girona by car
– From Barcelona – Mataró – Tarragona: on the AP-7 (Exit 8)
– From Manresa – Vic – Lleida: on the C-25 (km 0).
– From France – Figueres – Girona: on the AP-7 (Exit 8).
– From the Costa Brava: on the N-II km 710 direction N-156.
All these roads converge to a roundabout that gives access to the N-156 road, which, after 1 km, ends at the airport.
Before arriving at the Airport you can see the Hotel Vilobí on your left. Continue to the roundabout and exit at the first exit to CIM La Selva. Enter the CIM site and you will see our Drivalia Mobility Store on your left.
Frequently asked questions about car hire
Upon arrival you will need to show your passport, a valid driving licence and a valid credit card (VISA or MASTERCARD only) all in the name of the main driver.
Please note that a credit card will not be required if you have purchased our Ultimate package or our S.C.D.W. cover. This only applies to cover purchased on drivalia.es at the time of booking or at our rental desk.
We will also need to see the driving licence of any additional driver(s) although they do not need to be present.
The above are generally all that is required although in some cases we may need to see additional documentation such as your flight confirmations.
Girona Airport, otherwise known as Girona Costa Brava Airport is located around 12km south west of the Catalonian city of Girona and 74km from the vibrant yet historic city of Barcelona. The journey by car from Girona to Girona airport is less than 20 minutes by road which makes hiring a car a great option.
Barcelona Girona Airport
Although not actually in Barcelona, Girona airport in Spain is a regional airport which serves the whole area and if often referred to as Barcelona Girona Airport due to its close proximity to the city. Many low cost airlines travel to both the main airport of the region and also to Girona.
The journey by car from Barcelona to Girona airport is little more than an hour and if you are traveling by car this can be a lot more relaxing than the busy public transport options to a large airport like Barcelona, especially when traveling with children and luggage!
Girona is the Costa Brava Airport
From Girona airport you can directly access the AP7 motorway which connects the Costa Brava airport in Spain to France and also runs along the Eastern coast of Spain all the way to the Costa Del Sol. Because of these links, many passengers choose to fly into Girona Airport and tour to Barcelona and indeed to the South of France, enjoying a truly multicultural holiday experience.
Travel from Girona Airport to the Historic City of Girona
The city of Girona boasts a historic Jewish area which makes for a lovely afternoon strolling around. There are lots of museums which allow you to explore the history of the region and the buildings are beautiful and of stone construction. The cobbled streets add to the historic atmosphere. Unlike many areas of Spain, tourism is not the main sector in Girona and so you will feel like you are in real Spain with lots of traditional bars serving local beers, wines and of course food from the region.
Walk the streets, travel from bar to bar and enjoy being away from the crowds of tourists that you will always find in the coastal towns throughout Spain. As well as the history and culture that will leave you feeling like you are in a different world, Girona has an array of activities for all ages. Popular tourist attractions include the botanical gardens, Arabic baths, Monastry de Sant Pere de Galligants and of course a huge selection of outdoor sports. There are also many shopping centres where you can buy souvenirs of this area. Finish your evenings by indulging your taste buds with the cuisine in a traditional restaurant.
Collection Instructions
Everything is designed to make your experience with us smooth and easy. If you are going to Rent a car in Girona airport with Drivalia, then once you have landed, cleared passport control and collected your bags you are only a few minutes from the start of your Drivalia experience!
Exit the terminal building, walk across the crosswalk and turn left. Continue along the pavement bordering the main car park building and head towards the roundabout near the airport entrance. You will see our premises just a few metres on the other side of the roundabout, a total of less than 350 metres from the terminal building.
After completing the paperwork which only takes a couple of minutes you will be directed to your car which will be in our on-site parking facility.
Return Instructions
At the end of your holiday you simply return your car to car hire centre and our friendly team will quickly check you in quickly. Once this is done you can then make your way to the Girona airport departures area.
On arrival, if you are not familiar with the area, we will provide you with a simple map of the airport and how to return your car. If you wish, you can download our car return instructions map here.