Car hire in Spain with no hidden extras!
The mobility of people and companies is constantly changing.
Drivalia, an CA Auto Bank Group company, provides solutions that make you more free and more efficient.
From car rental and car sharing, to electric mobility and used car sales, We are the pioneer of a new idea of mobility: fluid, integrated, and global. Through an extensive network of "Drivalia Mobility Stores" located in the largest Italian, French and Spanish cities, at the main train stations and airports, you will always find specialised consultants who can help you to choose the right solution for you.
Our flagship package – all-inclusive car hire with no deposit, no excess and no fuss!​
Our priority has always been to not only meet, but exceed the needs and expectations of our valued clients
at one of our popular airport locations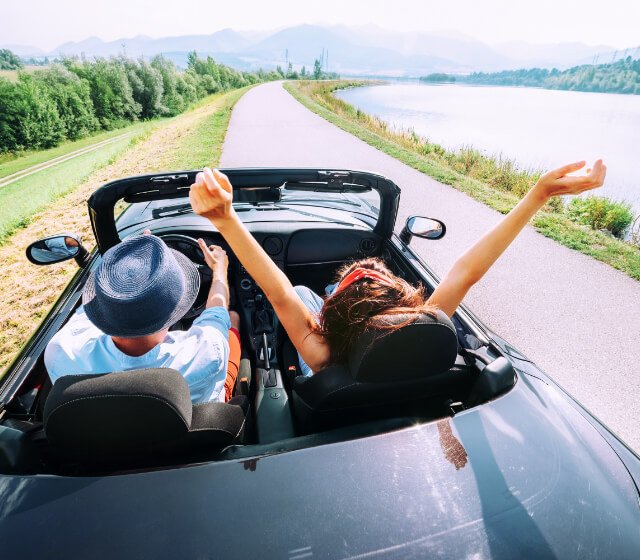 Your satisfaction is our top priority
We pride ourselves on offering the overall best value. As specialists in all inclusive car hire, we have become one of the highest rated suppliers thanks to our fair and transparent prices, great cars and awesome service. Our principles are to provide you with the newest and the best cars at honest, transparent prices with no hidden extras. This is why we are preferred car hire supplier to over half a million customers.
Car hire in Spain based on Honesty, transparency, integrity quality
Drivalia is different – our core values are to offer the most honest, easy and clear car hire in Spain. We are one of the highest rated car rental companies in Spain thanks to the quality of our cars and service. We offer car hire in Alicante, Mallorca, Valencia, Bilbao, Girona, Murcia, Santiago, Sevilla, Madrid & Barcelona. Welcome to the home of Ultimate – truly all inclusive car hire with no hidden extras.
All inclusive car hire made simple with Ultimate
We believe in keeping things simple and with Ultimate all inclusive. The price that you see really is the final price with no hidden extras and no nasty surprises.
Every all-inclusive car hire contract includes fully comprehensive cover with no excess, no deposit and no stress. With Ultimate we will take care of you and ensure that your holiday is smooth, relaxing and most of all, enjoyable!
We believe in providing the very best in service and quality. When you book your car hire in Spain with Drivalia you will notice the difference. We have a fleet of over 4000 cars, all of which we replace, on average every six months, meaning that you will be driving a great car of the latest generation. Our multi-lingual team are dedicated professionals who all share our passion to give you the very best experience when you hire a car from us.
We have positioned our offices in convenient locations slightly away from the stress of the main airport terminals and all of our locations are either a very short walk to the office or, as is the case in most offices, served by our courtesy shuttle busses which operate every few minutes. The strategic locations of our offices ensure that we are able to offer an extremely fast service, taking our clients away from the stress and queues often associated with rental desks inside the terminal.
Raising the standard of Car hire in Spain
We are now proud to have offices at seven locations throughout Spain. Our journey started almost a decade ago offering car hire at Alicante airport and it wasn't long until the demand grew and we expended to the Balearics and opened our second base offering car rental in Mallorca. After listening to our clients, it became clear that people were screaming out for changes in the Spanish car hire market and we took the bold move to launch Ultimate all inclusive in Spain. We knew that people would appreciate a fair and honest price from the word go rather than a low headline price and countless extras to pay on arrival. We had always been pioneers in Spanish car hire, being one of the first to offer full to full car hire in Spain and do away with obligatory fuel purchases and it seemed natural to lead by example and launch a flagship package that was truly transparent, offering a world-class service coupled with great value prices.